Calculate Your Potential New Revenue Now!
Agrilux Lighting System

for Broilers

Improve the health of your birds with our scientifically proven proprietary LED lighting system designed uniquely for your Broiler barn. In partnership with the University of Guelph, we have established that green LED spectrum lighting configured just right, can positively impact your birds making them less stressed.

What do we mean by "just right"? Your barn floor is like a canvas, and we have to paint it with the right amounts of light at the right time. If it's not done right – no positive results.

The result – Decreased mortality & condemned rates, and slightly heavier birds.
Calms Broiler Birds

 and Reduces

Broiler Stress.
Decrease Your Mortality Rate
Decrease your mortality rate by up to 20% simply by changing your lighting system!
Decrease Your Condemned Rate
Decrease your condemned bird rate by up to 20% simply by changing your lighting system!
Increase Bird Growth
Bird average weight increases up to 1.2%
Decrease Your Electrical Spend
It also reduces your current electrical spend by up to 85%
LED

 Spectrum Lighting

Just buying a bulb won't give you results.  You need an automated lighting system.  We paint the floor with the perfect balance of spectrum light, red or green, for your layers or broilers
Barn Analysis
Before we can design a tailor-made lighting system that will produce better poultry, we have to analyze your barn. Whether you have layers or broilers, not all barns are the same shape and size, and this makes a difference. 
Spectrum Lighting
You can't just buy a bulb because the bulb doesn't give you the results. You need an automated lighting system. We make sure your system paints the floor of your barn with the right spectrum of light for your layers or broilers. it's the light that makes the difference and if it's not done right – no positive results!
Dimmer
You have to get the intensity right! So you have to control it. We provide everything you need to make that happen – automatically.
2 Year Warranty
We stand by our system. it comes with a 2 year warranty on the system. If you have a problem, we will replace it at our cost.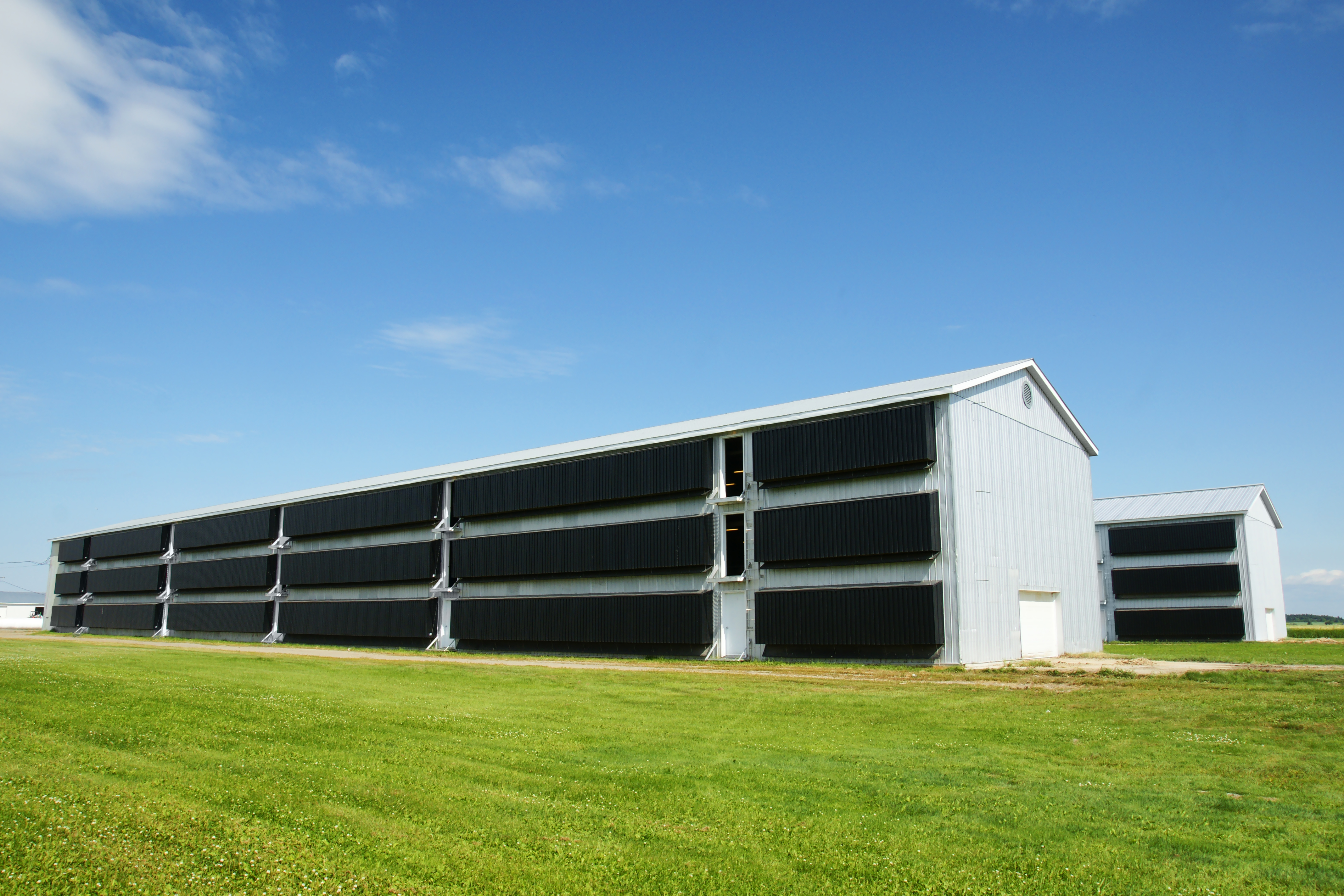 "I have been very pleased with our results since replacing our fluorescent lights with LED's.  The birds have performed exceptionally well while remaining calm.  It has been a pleasure to work with our chickens in their new environment, and will continue using LED lighting in the future."
Doug Dykstra
Dykstra Farms Ltd. Thornton, ON.
"I am very happy with LED lights, they work excellent with the dimmer, birds are calm and easy to handle."
Carman Weppler
Weppler Farms in Clifford, ON.
" … your service is excellent… so fortunate to enjoy given my small LED lighting system order.
I will keep recommending your products and would add that the lighting spectrum has certainly helped keeping my hens calm and productive over the winter, especially in alternative housing with mandatory natural light as per organic regulations."
Lydia Carpenter and Wian Prinsloo
Luna Field Farm in Belmont, MB.